Chocolate Peanut Butter Topping (Frosting?)
Part of a less good recipe I found, this is really simple but pretty good. Put on brownies/cookies/cake while warm.

Ingredients:
1 cup chocolate chips
1/2 cup peanut butter

Directions:
Heat on low while stirring constantly until mixed.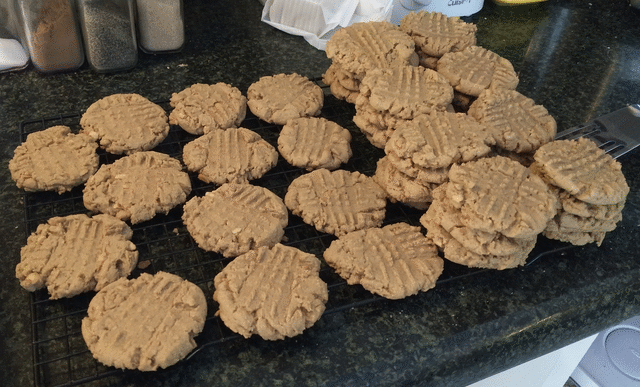 ---
Old Style Peanut Butter Cookies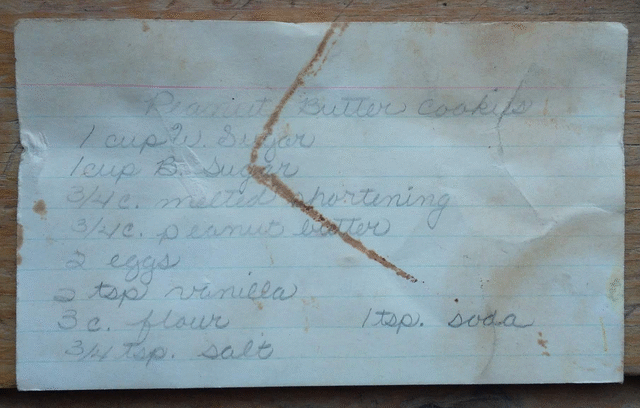 Found this recipe in my mom's collection. Makes a lot more sugar cookie tasting cookie than my other recipe. Still chewy but a bit more crisp.
I use butter instead of shortening.
Ingredients:
1 cup sugar
1 cup brown sugar
3/4 cup butter
3/4 cup peanut butter
2 eggs
2 tsp vanilla
3 cup flour
1 tsp baking soda
3/4 tsp salt
Steps:
Mix wet ingredients together first, then add dry ingredients all at once.
Smush with a fork to get the classic peanut butter cookie look.
Bake at 350 degrees for 9 - 11 minutes.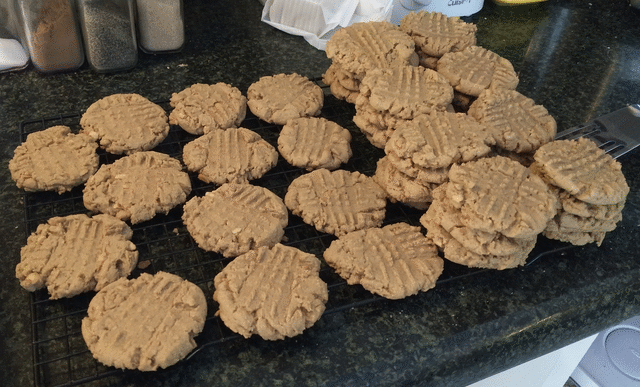 ---
🍪Ginger Cookies
The family ginger cookies recipes, no idea what its from but its called ginger.txt and has my parent's names typed out.
It says to use shortening so they're chewy, but I've made them with butter and they're about the same.

Ingredients:
4 1/2 cups flour
4 tsp ginger
2 tsp baking soda
1 1/2 tsp cinnamon
1 tsp ground cloves
1/4 tsp salt
1 1/2 cups butter or shortening
2 cups sugar
2 eggs
1/2 cup molasses
3/4 cup+ sugar for coating

Things to try:
Replace sugar with brown sugar?
Chocolate chips?
1 tsp nutmeg? allspice?

Steps:
1. Stir the flour, ginger, baking soda, cinnamon, cloves, and salt together in a mixing bowl.
2. In another mixing bowl, beat the butter/shortening until it's soft. Or melted butter if you're lazy.
3. Add the sugar and beat until "fluffy".
4. Add eggs and molasses, beat well.
5. Add half the flour mixture, beat until combined.
6. Stir in the remaining flour mixture with a spoon until you can't see any powder.
7. Scoop/spoon into a bowl of sugar, roll them around until they're coated, then put them on a parchment paper lined baking sheet. You can skip this step if you're lazy.
8. Bake at 350 degrees for 12 - 14 minutes, should be light brown and "puffed". Don't overbake if you want them chewy.
9. Transfer to cooling rack after 2 minutes.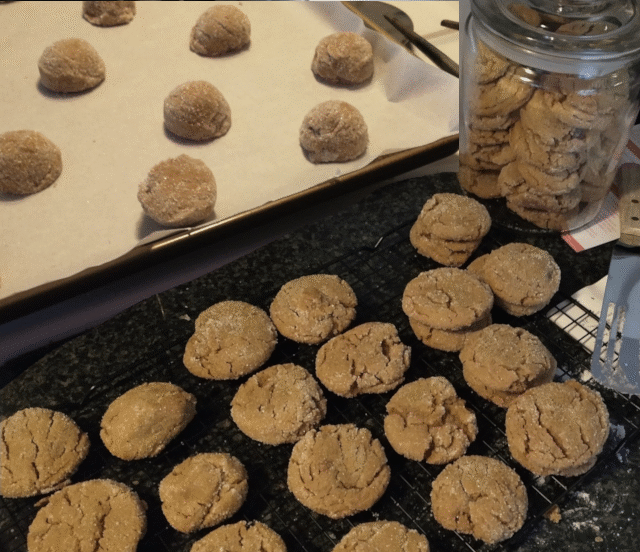 ---
🍫Chocolate Chip Cookies
These are your classic chewy chocolate chip cookies, just with a little extra flavor.
Makes about 2 1/2 dozen 3" cookies.
Ingredients:
2 1/4 cup flour
1 tsp baking soda
1/2 tsp salt
1 cup butter
3/4 cup sugar
3/4 cup brown sugar
2 eggs
1 tsp vanilla
2 cups chocolate chips
Recommended:
1 tsp instant coffee/espresso powder - enhances the chocolate taste. Add with the sugar.
1 cup nuts - walnuts, pecans, cashews, maybe even peanuts. Adds some nice texture. variation. Add with the chocolate chips.
Optional:
2 tsp cornstarch - makes the texture a bit softer? Add with the dry ingredients
1 tbsp molasses or honey - For a bit more flavor. Add with the sugar.
1/4 cup molasses + 1/2 tsp cinnamon + 1/2 tsp ginger + 1/4 tsp nutmeg + 1/4 tsp cloves. Replace sugar with brown sugar. This will get you a lot more molasses flavor.
Sugar balance - use 1/2 cup sugar and 1 cup brown sugar, or just all brown sugar for different flavors.
Double vanilla - Try 2 tsp of vanilla for a bit more of that vanilla taste.
One egg - Use just 1 egg instead for a bit of a different texture.
Chocolate Chip Replacements/Additions - butterscotch, M&Ms, or other morsels can give you some big variations over the default.
1/2 cup malted milk/ovaltine - Makes them taste more malty. Can even add crushed malted milk balls along with the chocolate chips.
Reduce sugar to 1/2 cup for thicker cookies.
1/4 cup (or more) peanut butter - for a slight pb flavor.
Steps:
Mix melted butter and sugars until smooth
Add in the eggs and vanilla, mix
Add in the flour, baking soda, instant coffee, and salt. You're supposed to premix all of these in a separate bowl but thats more dishes to do, so I just sprinkle them evenly across my main mixing bowl, then mix just until there's no more powder to pick up.
Add chocolate chips and nuts, mix
Drop by 2-3 tablespoon scoops onto a parchment paper lined pan.
Bake at 375 degrees for 8 - 10 minutes, until the edges are golden brown.
Transfer to cooling rack.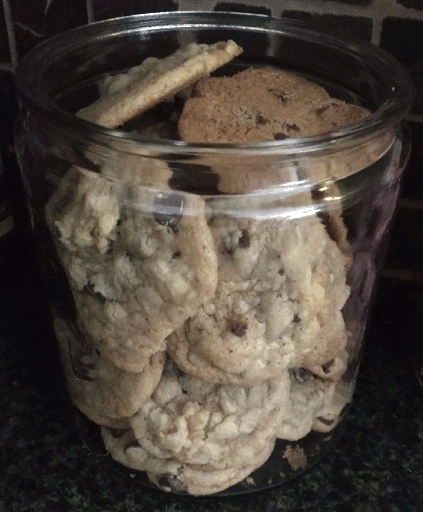 ---
🥜Peanut Butter Chocolate Chip Cookies
I've made these peanut butter chocolate chip cookies a few times now and with my recipe's modifacations they turn out really good!
They have a real nice texture throughout and big pb taste.

Ingredients:
2 1/4 cup flour
1 tsp baking soda
1/4 tsp salt
1 cup butter
1 1/2 cup peanut butter (I use smooth but chunky's fine too)
3/4 cup brown sugar
1/2 cup sugar
2 eggs
2 tsp vanilla
1 3/4 cup chocolate chips

Steps:
1. Mix butter and pb. (I melt the butter in the microwave)
2. Add the sugars, mix until smooth.
3. Add the eggs one at a time, mix.
4. Add vanilla, mix.
5. Add flour/soda/salt, mix but don't over mix. (I just add these all once cause I'm lazy but you're supposed to mix these together in a separate bowl)
6. Add chocolate chips, mix.
7. Bake for 10 min at 350 degrees. (I use a scooper thingy to get the consistent shape)

Until they fully cool, the middle will be kinda gooey, I prefer them cool. Might want 12 minutes (or more) in the oven if you like them a bit more... done.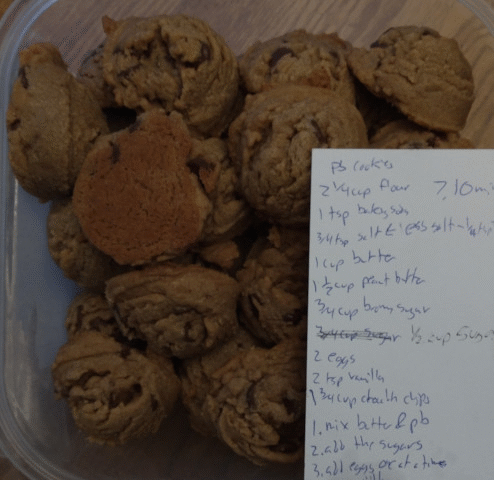 ---
🍅k0bold's Chili
Chili is one of my favorite foods so of course I have a personal recipe for it! I've been working on this for years, usually trying a bit of variation each time.
The batch pictured was mostly eaten by the time I remembered to take a pic, used stew meat, and was made mild.


Ingredients:
1 lb ground beef (or stew meat)
1 medium onion, diced
(optional) 1 lb fresh jalapenos, sliced in rings
1 can diced tomatoes
1 can stewed tomatoes
1 can kidney beans
1 can pinto beans
(optional) 1 can black beans
1 clove garlic, diced

Spices: (rough estimates, make it your own!)
4 tbsp chili powder (I use store brand in a shaker. I don't like the kind in the packets)
1 tbsp cumin
1 tbsp mustard
1 tbsp black pepper
2 tbsp cocoa
1 tsp garlic powder
1 tsp salt
(optional) 1/2 tsp msg (sold as Accent, also in most beef stock)
1 tsp beef stock (taste before adding more salt)
1 tbsp hot sauce of your choice (or more [or less]). I like Frank's, Tapatio, Tabasco, Dave's Insanity Sauce, or anything from Huy Fong depending on my mood

For less heat, omit jalapenos and hot sauce.

Toppings: (all optional) (try all at once for Ultra Deluxe Chili)
saltines/oyster crackers
shredded cheese
sour cream
guacamole
hot sauce
raw onion, diced

Steps:
1. Brown meat. For stew meat brown first, then add water to cover meat, then boil (with salt, pepper, bay leaf) for 1 1/2 - 2 1/2 hours, covered, depending on how tough it is. Boil off excess liquid.
2. Add onion, garlic, jalapenos. Cook like a minute just to get the onions started.
3. Dump in all the cans, stir. I don't drain the beans. Stir.
4. Add all the spices. Feel free to adjust/add/remove based on your tastes! Be cautious when adding salt/msg/beef stock so that it doesn't get too salty. Stir.
5. Simmer until onions & jalapenos are soft, ~ 1/2 - 1 hour, stirring occasionally.
6. Serve! I like to add more hot sauce to my own bowl, then a layer of cheese, then sour cream/guac on the side, then oyster crackers. For saltines I like to spoon the chili onto the cracker, then eat the cracker.

Tastes better the next day after reheating.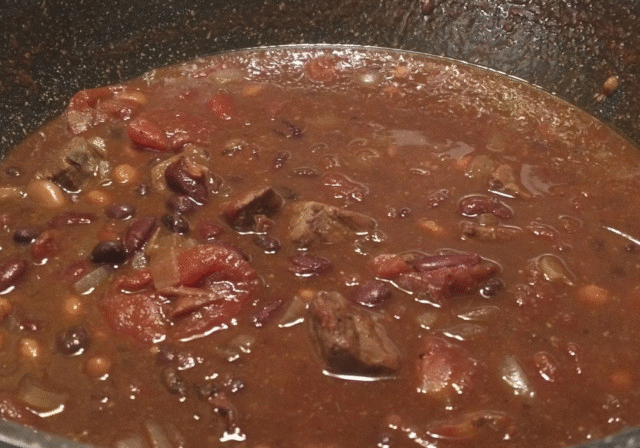 ---
To Post List
Oatmeal cookies? Pudding chocolate chip cookies, no bake cookies,
To Make List
shortbread, buckeyes (lazy pb cups), mexican wedding cookies/cake, coconut macaroons, lemon cookies?, molasses cookies, sugar cookies (lazy by making dough into rolls, fridge for a few hours, then slicing into 1/8th inh slices), more classic pb cookies from childhood with fork marks - less pb and crunchier, sour cream cookies?, chocolate chip with reeses pb mix on top/inside,